Remember the excitement of pulling out your fresh Jansport backpack and those brand-new school supplies for the first time? Same. And while many things have changed over the years, the universal love for cute pencils, notebooks, and arts and crafts will never be too cool for school. Start your students's year off in style — from pre-k through high school — with these easy back-to-school crafts.
Bonus: Not only are these projects fun to make, they serve a purpose, too. From desk organization to places to keep notes and reminders to locker decorations, your kids will keep using their creations for the rest of the year. (Which means that you don't need to figure out a place to keep them once they're done.)
So, what's your style? Are they looking to celebrate the fall spirit and take on an apple-themed project? Are they looking for something trendy and of-the-moment, filled with emojis or rainbows? Or do they want something more classic and watercolor-inspired?
Yarn Apple Garland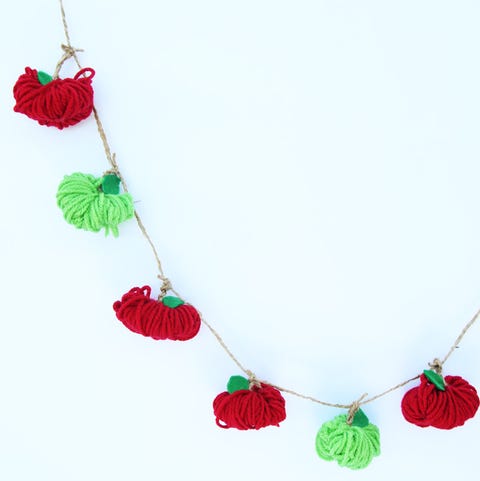 Back to school means apples (for the teacher), apples (to keep the doctor away), and more apples (for apple-picking season). This festive yarn garland stays true to the fall feeling in the air.
2. Shark Pencil Case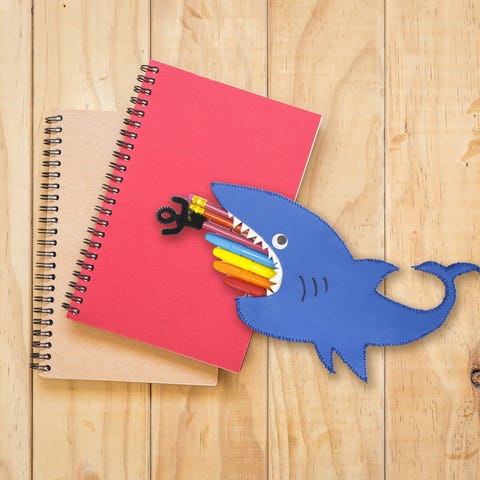 Take a bite out of disorganization with this sharky foam pencil case, which turns every week into Shark Week.
3. Mini Button Chalkboard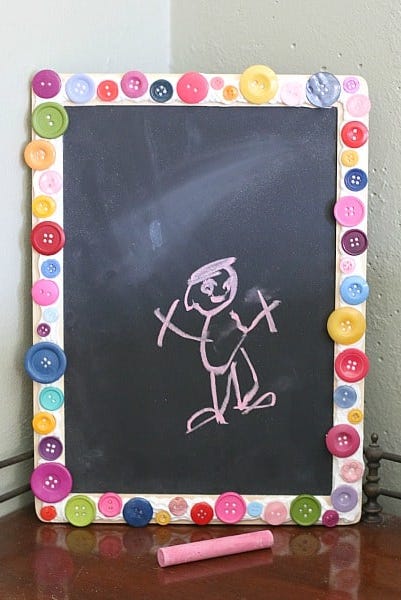 If you need a place for little notes, reminders, and words of encouragement, this DIY chalkboard is it. Plus, you get to use up all the extra buttons you have lying around the house.
4. Apple Tag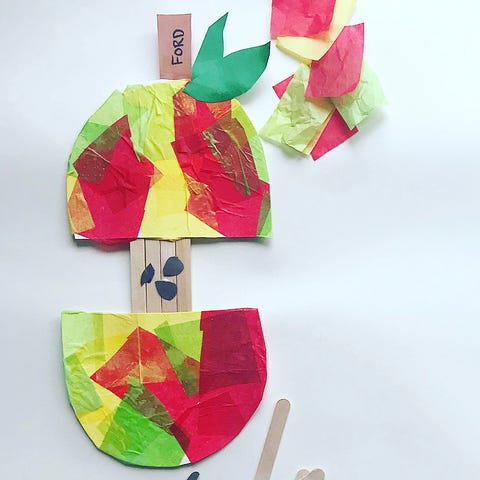 Even the little ones can get into the back-to-school DIY act with this tissue-paper apple tag. Note to tall the teachers out there: This also makes a good first-day-of-school activity, so every student can hang one on their desk.
5. DIY Homework Caddy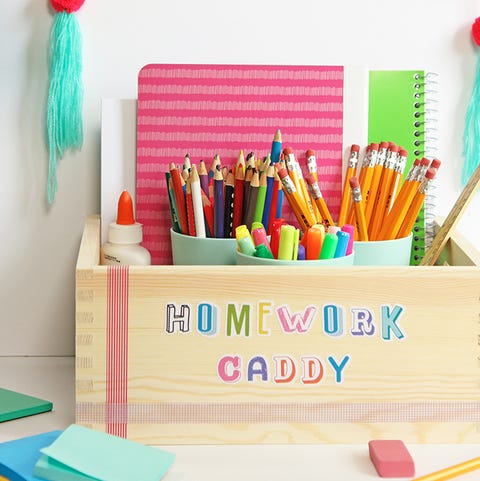 If they have all the supplies they need ready to go in one place — a cute place, to boot — they'll have one less reason to procrastinate doing their homework.
6. Apple Mason Jar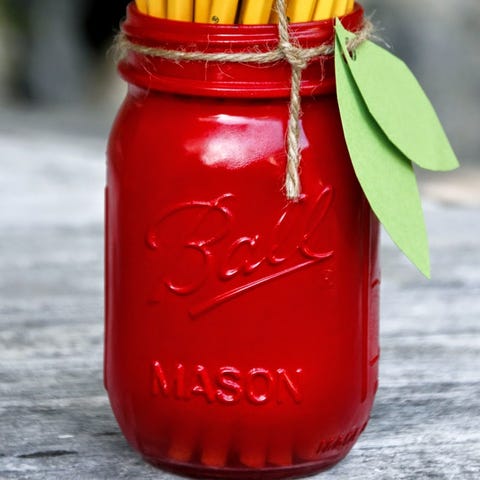 Use it as a pencil holder, or a catch-all for things like paper clips and thumb tacks. These also make great teacher gifts.
7. Beaded Backpack Tags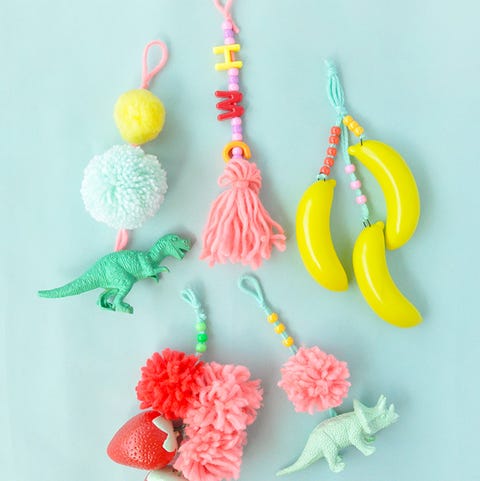 Flashback to the good ol' days of hunting down the coolest keychains for your backpack. Well, now your kids can make their own with colorful beads and yarn.
8. Rainbow Desk Organizer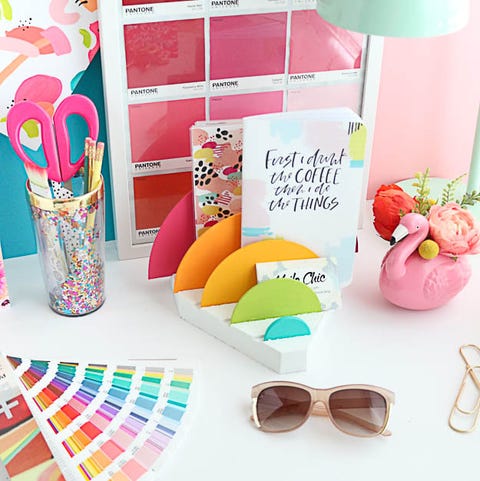 Not only does this desk organizer keep papers sorted, it teaches them their ROYGBIV if you make it large enough. (You can use one for your office desk, too.)
9. French Fry Pencil Holder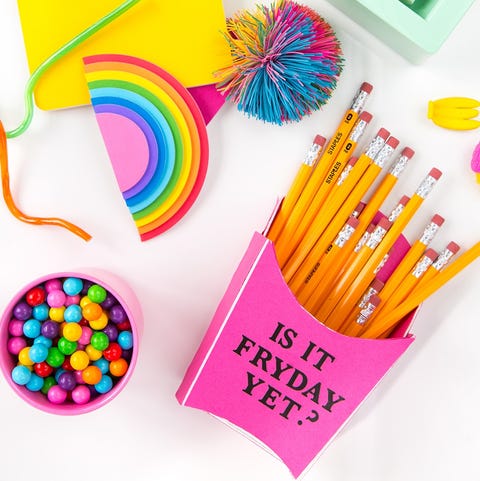 TGI Fryday! (Fry-yay!) Never have pencils looked so delicious.
10. Rainbow Watercolor Backpack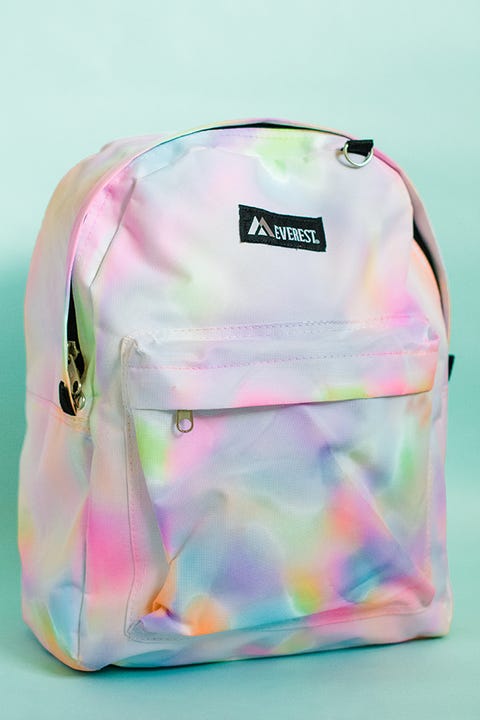 Your backpack should match her personality. So, that means it should be covered in bold and cheery paint!
11. Emoji Magnets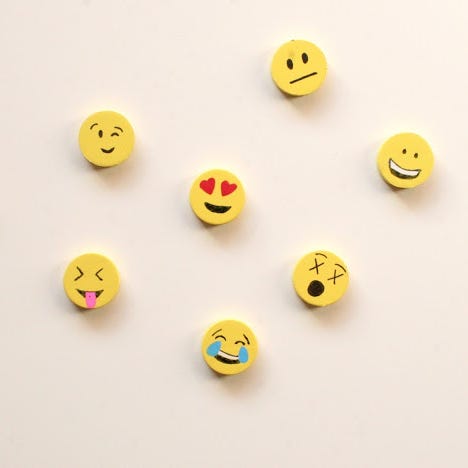 Your tweens can add some personality — ahem, multiple personalities — to their teen lockers with these LOL-worthy magnets. All you need are round magnets and some paint (make sure you have plenty of yellow).
12. Splattered Watercolor Notebook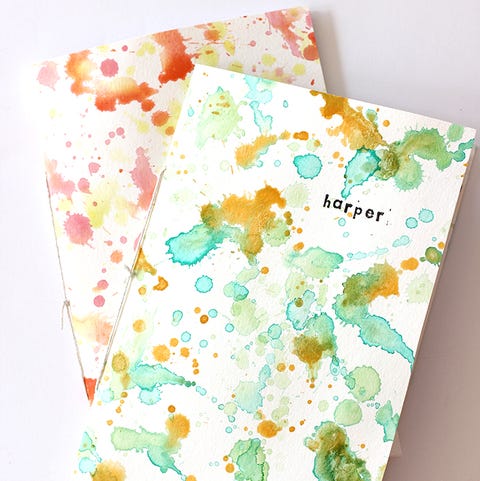 You can never have too many notebooks, especially when they have your name written across the front. Right, guys?
13. Gradient Calendar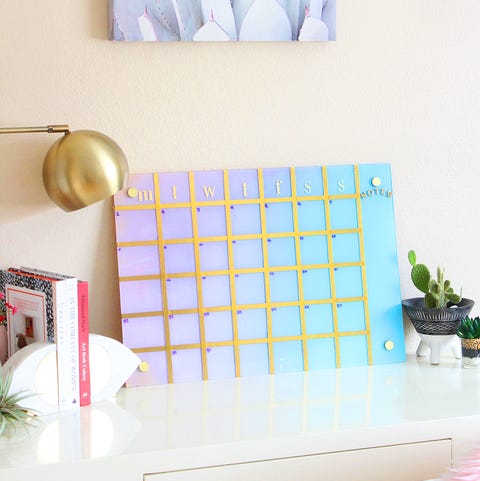 Rumor has it that if her calendar looks like wall art, she might actually look at it every once and while. It's amazing what washi tape can do.